One month down, three to go in this regular season. Through four weeks, we have a lot more questions than answers. The Jets and Patriots are both 2-2? The Jaguars are the 1st place team in the AFC South? The Rams are 3-1 and leading the NFC West? It's the wild west out here. Time to hand out some awards.
Practice-Hero Award: Kansas City Chiefs
I feel like I've read this book before. The Kansas City Chiefs get off to a blazing hot start, have a good regular season, then blow it when it really matters. 2013, the Chiefs started 9-0 before going 2-5 to finish the season, then having an all-timer for a playoff loss in Indianapolis. This team is also beginning to accumulate injuries, Monday night they lost two o-line starters in Mitch Morse and Laurent Duvernay-Tardif. They may continue to win, just know come January you'll once again realize why they drafted Pat Mahomes.
Heart-Breaker Award: Chargers and Giants
A combined 0-8. The week 5 toilet bowl. Who would've guessed it? Well, me, if we're talking about the Giants, but the Chargers have just cemented themselves as a bad team. They're 5-25 in their last 30, and no longer deserve my or anyone else's respect. Phillip Rivers has become a 5-year old with his weekly temper-tantrum when coach doesn't let him go for it on 4th down, and the offense isn't as explosive as it should be. Both of these teams are out of consideration for the playoffs this year.
Gruden Grinder Award: Buffalo Bills
The Bills won't ever blow out their opponent, but you can bet that they'll be in every single game they play this year. Tyrod Taylor is good when you actually anoint him as a 1st string QB (how about that?) and the defense is playing well despite losing Gilmore and Darby in the same off-season. The Bills being the Bills, they could go on a 5-game skid and make us forget they ever had this little 3-1 start, but currently I'm on board.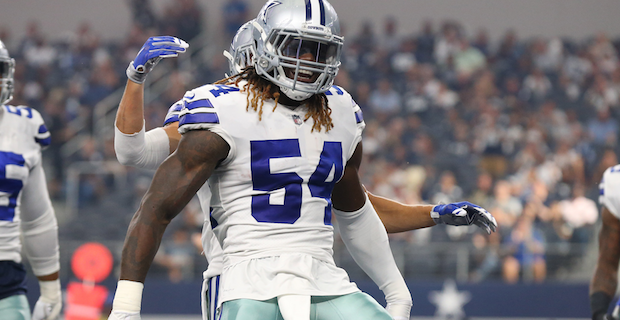 The 'Panic-Button' Award: Dallas Cowboys
The Cowboys are 2-2, with those wins coming against the Giants and Cardinals, who, if you didn't know by now, aren't good football teams. Their two losses came in the form of a slaughter in Mile High, and a home shoot-out loss to the Rams. A loss to the apparently competent Broncos in the altitude with a weather delay is forgivable, but losing at home to the Rams is not. I like the Rams, I think they're good. The former number one seed in the NFC should not lose to them at home. In the next five weeks, the Cowboys will play the Packers, Falcons, Chiefs, and Redskins. Them losing 3 of those games would not be a shock.
The Aaron Rodgers R-E-L-A-X Award: Pittsburgh Steelers
Make no mistake, this is the second-best team in the NFL behind the Chiefs. The Bears loss was classic Tomlin away loss in a game clouded by Anthem protests that I'm willing to forgive. Against the Ravens, Le'Veon Bell got going and the Steelers proved they're head and shoulders above the rest of the AFC North. The only thing stopping them from winning this division will be a #7 injury.
The Prove-It Award: Detroit Lions
The Lions have certainly quieted their critics with a 3-1 start which included coming within an inch of beating the Falcons, but they haven't shut them up yet. Wins against the Cardinals and Giants are looking less impressive by the week, and their win in Minnesota was against Case Keenum. The next 4 games carry a lot of weight, home to Carolina, @ New Orleans, Home to Pittsburgh, and @ Green Bay. These teams are a combined 11-5, and going 3-1 through the second quarter of the season would validate their status as a real contender for Lombardi 52.
The Bust Free-Agent Signing Award: Adrian Peterson and Jay Cutler
Gross. It's all gross. Peterson isn't a factor on the Saints and frankly should be released in favor of a guy who can do something on special teams. Jay Cutler looks as dis-interested as ever, something I should've taken into consideration when he took a job in the booth. That 10 Million probably feels good though.