Your Guide to This Year's Season
A football season is somewhat rare. Sure, they come every year, but the time in which we are blessed with the sport pales in comparison to the other 3 major American leagues. The MLB runs for 58% of the year while the NHL and NBA go for 66%, the NFL is only around for 41% of our calendar. What that 41% doesn't even account for is that we only get games once a week. The NHL and NBA have 82 contests, the MLB 162, but in the NFL there's only 16 that are guaranteed. Four percent.
That's why football, across all levels, is the greatest sport there is. Every game matters. Every play matters. LeBron James can have a game where he scores 6 points and has 4 turnovers. In fact, James could have a few games like that and the Cavaliers would still likely be one of the top two seeds in the East. If Aaron Rodgers has a 157 yard/3 interception game once, it can significantly alter a season.
There's only 16 guaranteed Sundays.
In football, it's not okay to lose.
With Hank Williams Jr. returning to our TVs on Monday Nights once again, I think it's fitting to ask, are you ready for some football? If so, read along as I take you on a tour of this year's NFL landscape.
It's only right we begin with the Super Bowl Champion New England Patroits. I won't waste my word count on the big game since we all know the story, but it's almost undeniable at this point that with one for the thumb Tom Brady is the greatest quarterback to ever play professional football. Instead of suffering the usual losses that come with a Super Bowl win like Denver losing Malik Jackson and Danny Trevathan in 2016, the Patroits just got stronger. They signed elite corner Stephon Gilmore over from division foe Buffalo in free agency, and traded away their first round pick to the Saints for Brandin Cooks. Many assumed that they would cut ties with back-up QB Jimmy Garappolo and CB Malcom Butler, however they kept them instead to ensure that the team would be borderline injury-proof. With Brady being 40, it's inevitable that his time in the league will soon be over. That's why the Patriots bulked up for this season, to accomplish the one thing that they haven't in their second millennium dynasty.
The perfect season.
They were oh so close to going 19-0 before the Giants pulled the upset of the century in Super Bowl 42, and I'd have a hard time imagining there's any other goal than this up at Patriot Place. Barring injuries to both Brady and Garoppolo, I'm not even sure there's an alternate universe where the Patriots fail to win the AFC East division this year even with a Cutler led Dolphins team that has caught my eye. If they're going to get knocked down it's going to be in the playoffs, and football is beautiful in the way where it'll only take one game to beat them. The AFC is top-heavy, but there are definitely a few teams capable of knocking off the Pats.
The most likely team for me is the Steelers. I really like the Steelers this year, and it may not be for the reason many do. Yes, the offense is clearly dynamic and having Martavis Bryant back is a huge help. I however believe that the Steelers will be able to get over the hump this year due to their defense. Having Sean Davis and Artie Burns in the secondary building upon very strong rookie seasons can really solidify what has been a leaky back end for them the past few years. Adding Joe Haden and J.J. Wilcox in the past week only makes them stronger on the back end too. I don't anticipate much of a drop off with the loss of Lawrence Timmons, I'm a big fan of his replacement Vince Williams who's one of my candidates to have a breakout season. T.J. Watt has shown out in the preseason and him with Bud Dupree gives Pittsburgh a great duo on the edges. Ryan Shazier is rock solid up the middle, and Javon Hargrave was a great rookie nose tackle who is criminally underrated. This paired with the offense will make Pittsburgh a force if they can stay healthy. I can't shake the feeling that we're on a road that leads directly to a Pittsburgh/New England AFC Championship game.
With Derek Carr back in the fold, the future Vegas Raiders should have no reason to believe they can't win the AFC. Unfortunately last season, a broken Derek Carr leg led to a playoff loss against a Texans team that wasn't very good. They had the most noteworthy off-season signing with Marshawn Lynch, and I'm intrigued to see whether he'll be good. Lynch is one of those guys who you just don't want to doubt, however he took a year off from the game and had an underwhelming 2015 season. The Raiders do have an offensive line that I feel should be in the conversation with the Cowboys for best in the NFL, and this will help Lynch and the other backs get good lanes to run through.
With the Raiders, we will see something that is unprecedented in the NFL. How does a team function with the ultimatum of leaving its home in two years? I don't know how the fans will react. Will they be mad at ownership and not the players? If things go badly will they turn on the entire Raiders brand? At the end of the day, it's still American football, and the rules are the same whether you're in Oakland, Vegas, or China. The Raiders will be competitive in 2017, and a Super Bowl appearance isn't out of the question.
The Patriots, Steelers, and Raiders look like the upper echelon in the AFC, but there are still a few teams out there that can surprise people. I bring to the stand the LA Chargers. Despite another injury riddled off-season and camp, this team has legit talent. I like them as a dark horse to win the AFC West. Melvin Ingram and Joey Bosa are the best rusher duo in the NFL, and I don't think it's a stretch to say the Chargers may have made the playoffs had Bosa played the whole year. Philip Rivers is in for a rebound year, and his weapons are up there with the best of them in the NFL. Keenan Allen is healthy, Travis Benjamin still has speed, and climb aboard the Tyrell Williams hype train now in order to not look like a band-wagoner come week one. Rookie first round pick Mike Williams is off the PUP and should appear by week 4 which would add another layer to the passing attack.
I like the Dolphins too. The Tannehill injury is a blessing in disguise. Cutler is better for this offense, solely because he unlocks DeVante Parker. Parker is a deep threat who I think has A.J. Green level talent. The third-year player out of Louisville has had flashes of elite play, but now it's time to put it all together on a consistent basis. Cutler called him a faster Alshon Jeffery, and I couldn't agree more. Jarvis Landry, Kenny Stills, and DeVante Parker will combine for 3,000 receiving yards in 2017.
The Titans will take the next step in 2017. Marcus Mariota has to be healthy for 16 games, but Titans GM Jon Robinson has built a strong team around him. Mike Mularkey might not be the most exciting coach, but I think the jury is still out on whether he's a bad one. The Corey Davis pick was risky with Jamal Adams on the board and a safety need, but he in theory gives Mariota the #1 receiver he's never had. They also signed Eric Decker to pair with Rishard Matthews and Tajae Sharp who are nice pieces when they don't have to be the go to receivers. I believe the Titans will win the South, how I feel about the rest of the AFC South makes that prediction easier to make.
The Kansas City Chiefs are going to miss the playoffs this season. I don't necessarily think the organization is on a bad path, however they didn't do anything in the offseason that sets them up to do better than last year. Andy Reid is a good if not great coach, but the situation with rookie Pat Mahomes and Alex Smith has to be a little bit weird. It would be like Donald Trump just hanging around the White House waiting for Obama's term to end. They're relying on Tyreek Hill to be their #1 receiver and Albert Wilson as the #2. Spencer Ware is out for the season. The defense will be good, but the offense will prevent KC from reaching their full potential. I'm pretty surprised the amount of faith the general NFL media is putting in them.
It's football, so anything is possible, but I believe that the AFC is much more cut and dry than the NFC. The Steelers and Patriots are significantly more talented than their divisions, and nobody from the AFC South will do anything worthwhile in 2017. The AFC West is interesting but I think it's going to be a two-horse race between the Raiders and Chargers. I truly believe that every division in the NFC is up for grabs, and as a conference it features much better quarterback play.
The two teams from last years' NFC Championship game, the Packers and Falcons, should be back in the spotlight this season. The Falcons came out of nowhere to appear in the Super Bowl just two years into Dan Quinn's head coach career. Despite his defensive mentality, they got to the promised land strictly because of their offense and Kyle Shanahan. Shanahan has since left to be the head coach in San Francisco, and the Falcons have hired former USC Trojans head coach Steve Sarkisian by way of Alabama. It's more than fair to wonder whether Sarkisian will be able to perfect the offense like Shanahan, and I'd lean more towards no. Tevin Coleman and Devonta Freeman likely are the best backfield duo in the league. Both of them are versatile. Despite the talent at running back, as far as receivers and tight ends go, the talent other than Julio Jones isn't breathtaking. Mohammed Sanu, Taylor Gabriel, and Austin Hooper are all decent pieces, but not quite the guys you'd expect to be main contributors in the NFL's best offense. Shanahan had such a great feel for his side of the ball, innately knowing when and how to use each player. I don't think Sarkisian will be able to match the touch Shanahan had, at least not in his first year.
I do think the Falcons offense will take a step back, but the defense will take a substantial step forward. Quinn has done a good job waiting to build his defense, and that has been fruitful for him, but now in his 3rd year he has a defense that can bang with the best of them. Along the line you have experienced players like Courtney Upshaw and Dontari Poe who can still produce, as well as a great mix of young talent. Grady Jarrett is primed for a big season, and ideally Vic Beasley can pick up right where he left off in 2016. Beasley is more of a speed/finesse rusher, which is why I really liked the drafting of Takkarist McKinley who is a high-motor power rusher. De'Vondre Campbell and Deion Jones were pleasant surprises in 2016 and adding rookie Duke Riley to the mix only makes the linebackers stronger. Keanu Neal had a great rookie season at safety, Desmond Trufant and Robert Alford are a decent corner duo. I may get burned by this, but I will pick the Falcons to repeat as NFC South champions.
Even though I like the Falcons, there are worlds in which the Saints, Panthers, and Buccaneers can all win this division. Even without Brandin Cooks, the Saints offense has a chance to be the best in football. This isn't because of Brees, Thomas, or Kamara, but because I think the offensive line is sneakily one of the best in football. Their interior is strong with guard free-agent signing Larry Warford, center Max Under, and 2015 high draft pick Andrus Peat. Zach Strief is a solid right tackle, and they selected tackle Ryan Ramczyk with the 32nd pick in the draft this year. Terron Armstead is their premier left tackle who will be back from injury mid-season. The defense has a few pieces, so if they can manage to be mediocre with an elite offense you can't count NOLA out. The Panthers' hopes rely purely on Cam Newton returning to 2015 form. The front 7 is good, but they are really week on the back end especially at safety. I do like corner James Bradberry. He'll make a name for himself this year. The Buccaneers are the NFL's darling this season, and for good reason. Jameis Winston needs to cut down on the mistakes while still making plays, which is a part of the QB maturation process. He has made some of the same errors we saw last year in the preseason, but I won't put too much stock in that. I like the Bucs as a possible wild-card team.
Another division that is completely up in the air is the NFC East. Year in and year out, this is always one of the most intriguing divisions in football. All four teams have made the playoffs since 2013, and they sent both the Giants and Cowboys to the playoffs last year. The Cowboys do have a few things to be concerned about as they set out to defend their division title. First, Ezekiel Elliot is suspended for the first six games of the year. It's unclear whether it will be upheld after his appeal, but it's almost a certainty that Elliot will miss games in 2017. They also must make up for some holes in the secondary as Barry Church, J.J. Wilcox, Brandon Carr, and Morris Claiborne all signed elsewhere in free-agency. They lost Doug Free and Ronald Leary on the o-line who have replacements, but they lack the continuity and experience that came with Free and Leary. On the more positive side of things, Dak has had a strong preseason and Dez is healthy. This team is still talented and it would be a Texas-sized disappointment if they missed the playoffs.
The Giants will not be good this year and even with the map that Ben McAdoo brings to the sidelines every weekend, he will miss the exit for Playoff Street. I don't like the pick of Evan Engram who does not solve the tight-end problem because he can't block. The addition of Brandon Marshall is interesting, but I can't understand why the Giants allocated almost no resources to address the offensive line or running back position. The Giants were sneakily a bad offense last year. Players like Odell Beckham can make you believe otherwise, but the Giants scored less than 20 points in 9 of their games last season. That's the same amount as the Browns did, and for some context the lackluster Siemian-led Broncos offense scored less than 20 points just 5 times. The defense was elite last year, but as we saw with the Broncos it's hard to stay atop the mountain for multiple years in a row. They'll still be good, but a step back wouldn't be a shock especially with the weak line backing core.
This brings me to the team I want to talk about, the 2017 NFC East Champion PHILADELPHIA EAGLES. Perhaps I'm going out on a bit of a limb, but there are plenty of reasons to like this team, starting with #11. I'm expecting a big leap in play from Wentz. With an entire offseason to work on his game and a revamped receiver group there shouldn't be any excuses. I couldn't love the signings of Alshon Jeffery and Torrey Smith more, I think both barring injury will have over 1,000 yards receiving. The front 7 is elite with Jimbo Schwartz at the controls. Timmy Jernigan was a great sign to pair with Fletcher Cox, Brandon Graham is a top defensive end and I like Derek Barnett out of Tennessee. Chris Long is there as well, so the Eagles line is deep and talented. Jordan Hicks and Nigel Bradham are good backers, and despite the trade request Mychal Kendricks has played well this preseason. The reason I wasn't all in on the Eagles previously this summer was because of the weak secondary, but with the acquisition of Ronald Darby I'm willing to push my chips to the middle. Fly Eagles Fly.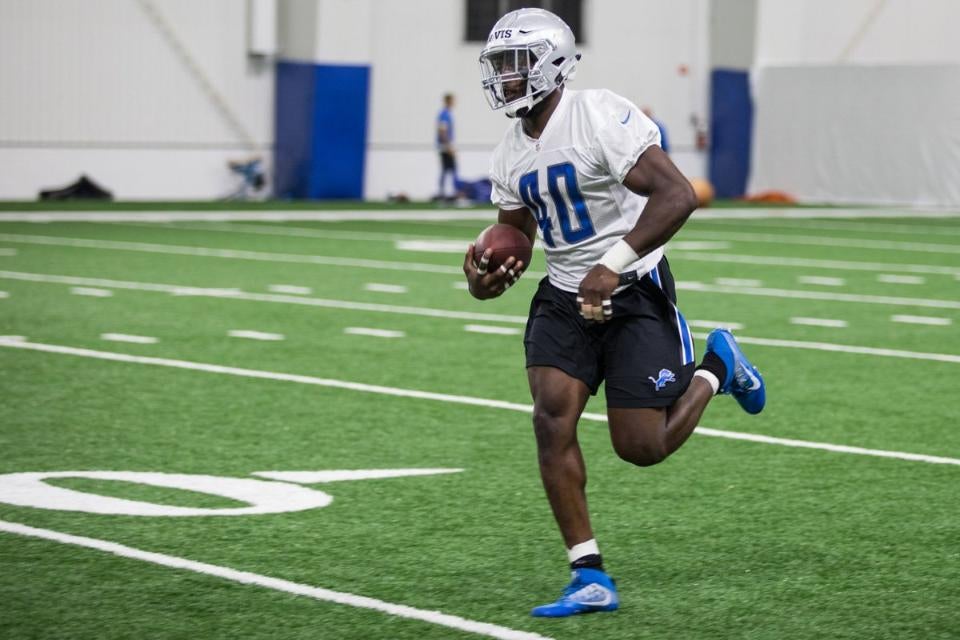 I really think my Lions can win the NFC North this season. I am extremely biased and probably an idiot, but it may be more likely than you think. The Lions team last year was lackluster. It had young talent, but some glaring holes from the Mayhew era remained. Despite this, they got the best play from Matthew Stafford's career and ended up in a one-game showdown with the Packers for the division in week 17. They lost, and then lost again in Seattle, but the team was not at full strength. Stafford's finger injury was more serious than he let on, and they were rolling with Zach Zenner and Dwayne Washington as their running backs late in the year. With the additions of T.J. Lang and Rick Wagner the o-line figures to be a strength, and the drafting of Jarrad Davis at linebacker will address a huge need. Stafford will be back and better than ever, and the Packers are more vulnerable than you think.
Aaron Rodgers is Aaron Rodgers and the Packers have every right to be favored to win the NFC North, but I see some holes on this team. I really don't think that their defense is any better than the group the Lions have. HaHa Clinton-Dix is a good player, but the rest of the secondary lags behind. They lost Micah Hyde in free-agency, and even though I like Kevin King he's still a 2nd round rookie corner. Clay Matthews is still a good player but past his prime. Kenny Clark hasn't showed much on the d-line, and their depth behind Mike Daniels isn't great. On the offensive line they lost T.J. Lang and J.C. Tretter, and have no real running backs. I would concede that the Packers as a whole are better than the Lions this year, but not by too much. It's football, and the best man on paper doesn't always win.
Lastly, the NFC West, which is one of the most lackluster divisions in football. The 49ers and Rams both have some things to point to that look promising, but in the crowded NFC the chances of them making real noise in 2017 are slim to none.
The Seahawks will miss the playoffs this year because of their offensive line. Man is it bad. This is my third time writing about it, but I really can't see how this team makes the playoffs or can be offensively consistent just throwing short passes. With Germain Ifedi, Luke Joeckel, and the season ticket holder from section 209 on this offensive line I can see Russell Wilson getting pounded. The offense has been successful in the preseason, but when defenses formulate real game-plans the Seahawks will have a tough time executing. It's time for Jon Schnieder to smell the roses and draft/sign some good linemen.
By default, I like the Cardinals to win the West. It's the last hurrah for Palmer and company, and I think he'll come through. I think the defense will be back to prominence. The draft selections of Budda Baker and Haason Reddick are promising, and they have the world's best corner in Patrick Peterson. Markus Golden and Chandler Jones can have their way with the tackles of the NFC West, and the Honey Badger is back in a big way.
Here are my playoff predictions for the 2017-2018 NFL Season
NFC Playoff Teams:
Falcons
Cardinals
Lions
Eagles
Cowboys
Packers
AFC Playoff Teams:
Patriots
Steelers
Raiders
Titians
Chargers
Dolphins
NFC Championship Game
Cardinals v. Falcons
AFC Championship Game
Steelers v. Patriots
Super Bowl
Steelers over Falcons.
Ultimately, the Steelers knock off the villain Patriots and win a Super Bowl. Ben Roethlisberger retires with his 3rd ring and as lock for a Canton bust. Atlanta once again comes up short, and we head into the 2018 off-season wondering if they'll get over the hump or end up like the Bills.