This years draft had a running back class that was one of the most talented we've ever seen. The obvious headliners were Leonard Fournette and Christian McCaffery who ended up being top 8 picks, but there are plenty of other backs destined for big roles on their respective teams in 2017. There are 11 rookies who are currently either the first or second string back on their teams' depth charts, this isn't even including Alvin Kamara who will be a significant part of the Saints offense but is just behind Adrian Peterson and Mark Ingram.
So, are these rookies ready to step up to the plate for their teams this season? Let's analyze each first string back and take a look at some other non-starters that I think will make a significant impact in 2017.
Joe Mixon
I wanted to start off with someone not named Fournette or McCaffery. If draftniks were grading players solely on their on-field contributions and NFL potential, I believe Mixon would've been the consensus #1 RB. He has already shown his talent and feel for the position in the preseason. Despite what I see as a Bengals team with plenty of holes, they drafted two offensive players in Mixon and Ross that are absolutely electric. I think Mixon has Le'Veon Bell and David Johnson type ability with running and receiving, it remains to be seen whether that talent becomes statistical production. If I had to bet, I'd say it will.
Leonard Fournette
Fournette is in an interesting situation. The NFL has been mouth-watering over this guy since he arrived on campus in the Bayou, and it only took 4 picks for him to be selected. Fournette finds himself on a Jaguars team that is loaded with talent just about everywhere but QB and lacks any sort of identity. His foot issue from college is lingering, however he is expected to start week one. I worry that with a mediocre line and bottom of the barrel QB play that Fournette may get off to a slow start his rookie year.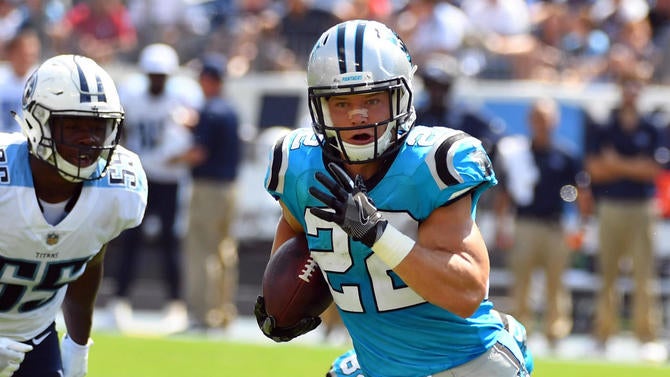 Christian McCaffery
McCaffery was selected only 4 spots after Fournette, and has been the talk of camp in Charlotte. McCaffery, like Mixon, is more known for his ability to run routes and catch the ball even though he still is a prolific runner. I don't doubt McCaffery's talent, but I'm concerned his and Curtis Samuel's style of play don't fit Cam Newton. Newton always wants to push the ball down the field and isn't very accurate. I am not sure if he will be able to deliver the ball accurately in tight spaces on underneath/whip routes that McCaffery will be running. Watching how the Panthers decide to use Samuel and McCaffery is one of the things I'm most looking forward to this season.
Dalvin Cook
As a Lions fan, I was frustrated when Dalvin Cook fell into the Vikings' lap. With Peterson departing, it was the perfect time to add another elite talent in the backfield with Cook. He has quickly extinguished any thoughts of Latavius Murray starting ahead of him, and will get a bulk of the carries in Minnesota. Vikings fans are hoping his fumbling problems don't follow him to the NFL, but other than that there's not too much to knock on when it comes to Cook's game. Cook is a pretty good candidate to lead rookies in rushing.
Kareem Hunt
Kareem Hunt has found himself starting due to Spencer Ware's season ending injury rather than taking the job, but it's a starting gig nonetheless. Hunt was a favorite among draft pundits as a mid-round guy who could be pretty good once the top-tier talents had all been taken. I have to admit that even though I like Hunt's ability to catch the ball, I wasn't as thrilled with him as others. His chance to prove me wrong is coming sooner than probably even Hunt expected, and per the Chiefs official website, Hunt is "ready for the challenge".
Now for some players in secondary roles who I think will play significant roles in teams' offenses this year.
Tarik Cohen
Cohen a.k.a the Human Joystick comes out of North Carolina A&T and was one of my favorite players in the draft. He was picked in the 4th round, and has been great during the preseason. I really like the back tandem Chicago has with him and Jordan Howard. Cohen will be a great role player in the Midway.
D'Onta Foreman
Foreman was arrested earlier this summer on charges of Marijuana possession which put a damper on his off-season, but he has yet to be suspended by the NFL. Foreman has looked fantastic in preseason play where his counterpart Lamar Miller has not. Foreman has ability out of the backfield and I like his chances to end up starting a few games in 2017.
Alvin Kamara
Coming into the draft, I worried that Kamara may be another Cordarelle Patterson. He's quite the athlete, but I worried about his ability to create for himself and wondered if offensive coordinators would have to draw up plays specifically for Kamara. If his preseason performance picks up where it left off come week one, he will have proven me completely wrong. I remain interested to see how New Orleans divvies up the carries between Ingram, Peterson, and Kamara.
There are plenty more backs that may just steal the show this season. The NFL has a lot of young talent at the position with some of last years rookies primed for big seasons too. 2017 may just be the year of the running back.